Jenni McIver
Jenni has been working in the fitness industry for over 15 years specializing in weight loss and weight management.
Jenni set up Bustamove as a personal training studio 12 years ago after working at fitness first as a personal trainer and manager and realizing how they just don't work for most people in achieving their goals. She wanted to create a training environment based around the clients needs and training requirements as not everyone is the same.
You will find her dedicated to helping people stay motivated, train safely, effectively, consistently & with correct technique. All this will mean you have the best chance of a great result from your training but also have fun & feel connected to the gym and our community at the same time.
Certificate 3 in Fitness
Certificate 4 in Fitness
Senior First Aid Level 2, including CPR
Certificate 2 in Boxing
Christian Davidson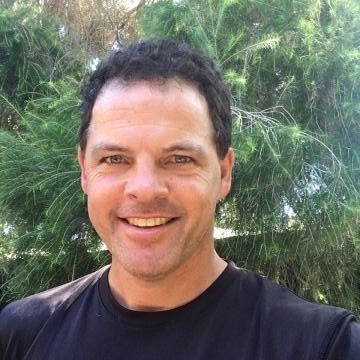 Christian spent 3 years setting up Liv4Fitness in Glen Iris and has now settled with his family in Black Rock and loves working at Bustamove.
Christian still enjoys his former profession of being a golf caddy on the pro tour as it gives him some great international experience and the chance to work with full time athletes.
Now that he is at Bustamove he is really enjoying the environment here and the people he works with.
He has trained professional golfers and AFL footballers in the past and feels that the exposure to both sports has given him some diverse experiences as a trainer and enabled him to always keep training up-tempo and interesting.
Certificate 3 in Fitness
Certificate 4 in Fitness
Senior First Aid Level 2, including CPR
Scarlett Whitlock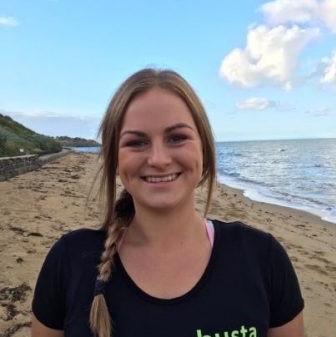 Scarlett has recently completed her certificate 3 and 4 in Fitness and is thriving as one of Bustamove's personal trainers.
Growing up around the fitness industry it is no surprise that Scarlett has been an award winning volleyball player and was active in gymnastics and dancing (Nationals) for over 10 years.
Scarlett is 100% results driven and totally dedicated to helping her clients achieve their weight loss, fitness and health goals.
Certificate 3 in Fitness
Certificate 4 in Fitness
First Aid including CPR
Jack Gava
Jack has worked as a personal trainer for three years at gyms in Melbourne's southeast and joined the Bustamove team in 2018.
Jack brings extensive theoretical and practical knowledge to the team at Bustamove. He has also completed multiple internships at high performance gyms in order to further his knowledge as a trainer.
Jack is passionate about fitness and the wide array of benefits it will reap for his clients. 
Whether you are recovering from an injury, looking to lose weight or build muscle, Jack will be able to provide you with the best exercises and tips, as well as motivate you and support you along your fitness journey.
Masters of Exercise Physiology (to be completed by mid-2019)
Bachelor of Exercise and Sports Science at Australian Catholic University (2016)
Current First Aid and CPR (2018)
Qualified exercise trainer with Physical Activity Australia (2016)
Dany Tamayo Ray
Dany has always been physically active by participating in team sports, boxing, running and basically anything that would keep her moving. She decided to turn passion into career and has now been a trainer for 3 years, achieving great things in a very short time.
Within her first six months of working as a trainer, she became the face of Preggi Bellies, featuring as the head trainer on their highly successful DVD's.
Dany thrives on helping people realise their full potential, driving them to be determined, disciplined, strong minded and ultimately achieve their goals.
Her approach to exercise is to make you feel good mentally and physically both during and after your workout. Dany's goal with each client is to be of one the positive people in their life by making them feel empowered, helping them move more freely, consequently improving their quality of life.
Dany can help with you with weight loss, strength training, sports specific training and also specialises in pregnancy training (pre and post). Having herself been pregnant and giving birth to little Austin, making this unique and special time more enjoyable for women is what Dany loves most.
Certificate III in Fitness
Certificate IV in Fitness
Certificate in Pre and Post Natal Exercise
In2Great Fitness Mentorship
Myofascial Release
Tools Of The Trade OD on Movement
Senior First Aid and CPR
Melanie Cooper
Melanie has been working in the fitness industry for 7 years. She is now in her second year of completing her Myotherapy degree after completing 2 years of nutrition.
Melanie is a big believer in meeting the clients where they need to be met and guiding them toward their health and fitness goals.
Having completed in her own fitness goals, such as marathon running, triathlons and even a small stint in trying to crack the power lifting circuit, she brings a wealth of knowledge and skill to help her get you to where you need to be.
Her passion is to help people to move without pain or discomfort and to make fitness fun. When people strive for obtainable and realistic goals in a a fun and relaxed environment, they become life long and not just short lived.
Bachelor of Health Science (Myotherapy) – Completing end of 2019
Foundation of Human Nutrition
Sports Nutrition
Cert III and IV in Fitness
IOM level 1 Graduate
Trigger Point Release Therapist
Rehab Trainer / Rehab FX
Personal Training Academy Level 1 Graduate
OD on Movement Graduate
PTA Bridging Course
Spin instructor, Kettlebells 1 & 2, Powerbags, Battleropes, TRX 1 & 2, TRX Rip, Sandbells, Vipr, Level 2 boxing instructor, Animal Flow level 1.